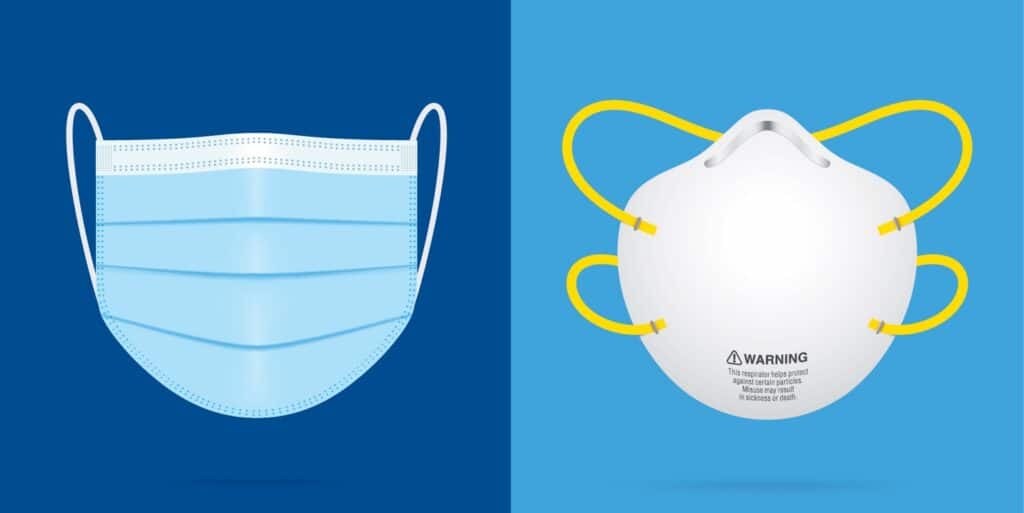 Getting to Know the N95 respirator
The N95 mask, also referred to as an N95 filtering facepiece respirator, is designed to fit closely to your face, to provide an efficient barrier to filter out airborne particles. Many people do not realize that these types of surgical or face masks are regulated by the Center for Disease Control and Prevention (CDC) National Institute for Occupational Safety and Health. Wow, that is a lot of words. It is probably also the reason they are known as NIOSH. For the rest of the article, I will refer to the regulatory body as NIOSH.
Differences between a surgical mask and an N95 respirator
With the recent Severe Acute Respiratory Syndrome Coronavirus 2 (SARS-CoV-2) pandemicCOVID-19COVID-19, along with all of the deadly contaminants and viruses in our world today, it is important to know that not all masks are created equal. The FDA regulates surgical masks and N95 respirators differently based on the intended use. There are key attributes between the two masks to help you determine which mask is best for you. So, let's dig in a bit deeper.
Surgical face mask attributes
A surgical mask has a few key identifiable traits.
Not all face masks qualify as a surgical mask, but all surgical masks can be referred to as face masks.
The surgical mask covers the mouth and nose of the person wearing them.
The edges of a surgical face mask do not form a seal around the mouth and nose and are known to have leakage when the wearer breathes.
A surgical face mask is disposable.
Surgical masks are resistant to some fluids, but unlike the N95 mask, they do NOT protect the wearer from inhaling smaller airborne particles.
A surgical face mask is tested and approved to be used by the US Food and Drug Administration (FDA)
A surgical mask does not require a fit test
A surgical mask does not require a user seal check requirement.
Before the COVID-19 pandemic, the N95 respirator or N95 face mask was most commonly known and manufactured for use in industrial jobs (eg. construction) to protect workers from inhaling dust and small particles. There were also fewer N95 respirators that were manufactured and used in health care settings. They were mostly utilized in settings where "microorganisms, body fluids, and particulate material" were present, with healthcare workers in mind.
In the beginning days of the COVID-19 pandemic, most of us became very aware of the N95 mask. As I am writing today, I am reminded that I too, did not know what an N95 respirator was. I learned what an N95 respirator was from my husband, Mike, who has worked in healthcare for over 30 years. During the scariest time of COVID-19COVID-19, Mike worked with COVID-19COVID-19 patients. My husband's hospital did not have access to the number of N95 masks that they needed, So they did what they could and dispersed sparingly! Initially, my husband used an N95 respirator from a friend in the construction industry. It took a few weeks before he was given an N95 respirator from the hospital. These masks were so hard to come by and Mike's hospital instructed staff to put them in a paper bag after shift and reuse it on his next shift. His hospital was not alone in this! Thankfully, we can get N95 face masks now! I tell you this because we now have the opportunity to take precautions and protect ourselves more effectively!
Are N95 masks different
An N95 Mask or an N95 respirator is quite a bit different than any other mask on the market.
A legitimate N95 respirator provides the wearer with a more precise and protective option.
The N95 mask not only covers the mouth and nose of the person wearing it, but it also provides a much tighter fit.
The edges of the N95 mask do not form a seal around the mouth, but it is worn snugly and can filter out up to 95 % of airborne particles.
The N95 face mask should be disposed of after every use, but it is a much more durable mask.
The N95 respirator is evaluated, tested, and approved by NIOSH as per the requirements in 42 CFR Part 84.
The N95 mask requires a fit test requirement.
The N95 respirator requires a user seal check requirement.
How do I know if I am buying and wearing an N95 Mask
Unfortunately, COVID-19 created such a demand for N95 masks, that counterfeits have run rampant. Here are some keys to assessing your mask. By looking closer and knowing the signs, you will be able to determine if you have a fake or counterfeit N95 respirator.
An N95 respirator should have a model number printed or imprinted on it.
A legitimate N95 should have an easily identifiable brand name or trademark printed on the mask.
There should be a NIOSH approval number printed on the N95 face mask that starts with "TC-#XXX…"
There should be a NIOSH name or logo on the N95 mask
There should be a filter class of N, P, or R on the N95 mask
There should be a filter efficiency printed on the N95 respirator mask of 95, 99, or 100.
If you are still not sure about a mask you are using, NIOSH has a list of approved N95 respirators you can reference.
Who should wear an N95 mask
There are many differing opinions on the subject of wearing masks. At Alliant Biotech, we follow current CDC guidelines regarding vaccinations and wearing a face mask (preferably N95). We believe the best way to protect yourself is to take precautions. It is important to note that if you are immunocompromised or at high risk for severe illness, or if you live with, or are in contact with someone who is at high risk for contracting an illness; it is recommended that you wear a mask to protect yourself and the other person. Further, the CDC recommends that anyone indoors, where they are in contact with the public (including schools and public settings) should wear a mask to protect themselves. The mask you choose is up to you, however, the N95 mask is now readily available.
It comes down to how safe you want yourself and others to be from COVID-19COVID-19 and the growing number of Corona Virus variants. My family and I have experienced one positive thing from mask-wearing. My husband and I have worked with the public through the Coronavirus pandemic. We also, almost always contract some form of the flu or cold virus in the winter! We have been committed to wearing N95 masks. Not only has it prevented COVID-19 infections in my home, but we also went two years without the flu or cold symptoms. This has not happened to us since we had children! I will admit this was a bonus, and I am now a believer in masks! My teenager is still not convinced, but I am working on it. She says they are not attractive, but she won't admit that she has not been as sick with the everyday viruses we are accustomed to getting during our Michigan winters!
People who are at the highest risk should wear a mask
If you are still not convinced to wear a mask, I hope you will consider the implications of not wearing a mask for those who may be immunocompromised or immunodeficient. I have listed a few groups that are at a higher risk and also included a link to dig a little deeper.
Elderly (over the age of 50), anyone with a specific medical condition including heart disease, respiratory disease, cancer, anyone using corticosteroids, transplant patients, pregnancy, spinal cord injuries, immune deficiencies and immunodeficiency viruses, diabetes, liver disease, chronic kidney disease, cystic fibrosis, and numerous other disabilities and health issues (to get a more in-depth list).
The newer COVID-19 variants (Omicron BA.4 and BA.5) are showing to be 4 times more contagious, and while those of us with "normal" immune systems are less likely to have life-threatening repercussions, there is a significant population who can still contract the virus from us. And for them, it can still be life-threatening. It's impossible to deduce that wearing a mask won't help protect everyone.
The difference between N95 masks and KN95 masks
There is a difference between the N95 respirator and the KN95 respirator. The biggest difference lies in the certification process. The KN95 face masks are manufactured and tested in China, which does not have a regulating body that is holding manufacturers accountable. In contrast, the N95 masks are tested and regulated in the USA. It is important to note that KN95 masks are designed and manufactured to have the same protective properties as the N95 face masks, however, these masks may or may not meet the NIOSH standards. You get to choose if that is sufficient for you. It is important to note that the CDC tested some of these masks and they did not meet the same standards that NIOSH requires. Counterfeit KN95s have also infiltrated our country. The CDC has a handy resource to spot fakes.
What about fashionable cloth masks, are they protective
Ok, I am with some of you; I love designer masks! I have many that match my outfits or are just plain cute. Don't judge, some of us appreciate fashion. However, the cloth face mask, bandana face covering, and other such face masks are not near as effective as even a surgical mask which reduces your odds of contracting or spreading COVID-19 by only 66%. Studies have shown that a cloth face mask can have up to 75% inward and outward leakage, Yikes! So, if you only wear a designer or cloth mask you are probably getting a little protection, but it is not even close to the efficacy of an N95 mask. I do have a solution for you fashion-forward people like myself. Wear a strapless certified N95 mask underneath a fashionable cloth mask when you are in public. That way you are looking good and staying safe!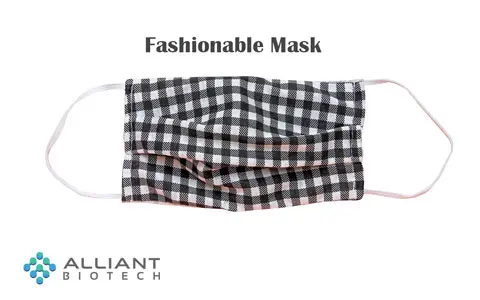 What if I don't like wearing a mask
We have all grumbled at least a few times about wearing a mask, me included. However, as we have been wearing them for the last two years, many of us have gotten used to wearing face masks. If you are thinking,' no way they feel terrible, I refuse to wear a mask, let alone an N95 mask!' I want you to know, that there is new technology out there that offers the same protection as an N95 mask, but is comfortable too.
I recommend researching and trying a few different masks to see which you like. At Alliant Biotech we make a new certified N95 mask that is strapless for those of you that need more breathing room, hate straps around your ears, struggle with foggy glasses, or are looking for an even better seal. They are NIOSH approved, manufactured with hypoallergenic, medical-grade adhesive, priced reasonably and I have to say, I find them to be extremely comfortable in comparison to other masks. The strapless N95 mask can also be lifted to take a drink and then reapplied, and the Alliant Biotech N95 mask has a much more comfortable seal than other N95 masks on the market.
Still not sure? Try a few different masks to see which ones you like best! At Alliant Biotech, we offer a free sample (you pay shipping) so you can try it before you buy. One thing is certain, no matter what face shape or preference you have, I bet there is a mask on the market for you. You truly can find masks of all sizes, colors, and preferences. Try a few, you may find they are not as bad as you think! So, everybody #passthemask!
https://www.fda.gov/medical-devices/personal-protective-equipment-infection-control/n95-respirators-surgical-masks-face-masks-and-barrier-face-coverings
https://www.ecfr.gov/current/title-42/chapter-I/subchapter-G/part-84
https://www.mayoclinic.org/diseases-conditions/coronavirus/in-depth/coronavirus-mask/art20485449#:~:text=An%20N95%20offers%20the%20highest,reserved%20for%20health%20care%20providers.
https://www.cdc.gov/niosh/npptl/pdfs/UnderstandDifferenceInfographic-508.pdf
https://www.cnn.com/2022/01/15/health/mask-guide-faq-n95-kn95-wellness/index.html
https://www.cdc.gov/coronavirus/2019-ncov/prevent-getting-sick/about-face-coverings.htmls_cid=11721:should%20i%20wear%20a%20mask%20after%20vaccination:sem.ga:p:RG:GM:gen:PTN:FY22
https://www.cdc.gov/coronavirus/2019-ncov/hcp/clinical-care/underlyingconditions.html
https://www.cdc.gov/niosh/npptl/usernotices/counterfeitResp.html
https://www.cdc.gov/mmwr/volumes/71/wr/mm7106e1.htm
https://alliantbiotech.com/product/n95-adhesive-masks-50-pack/