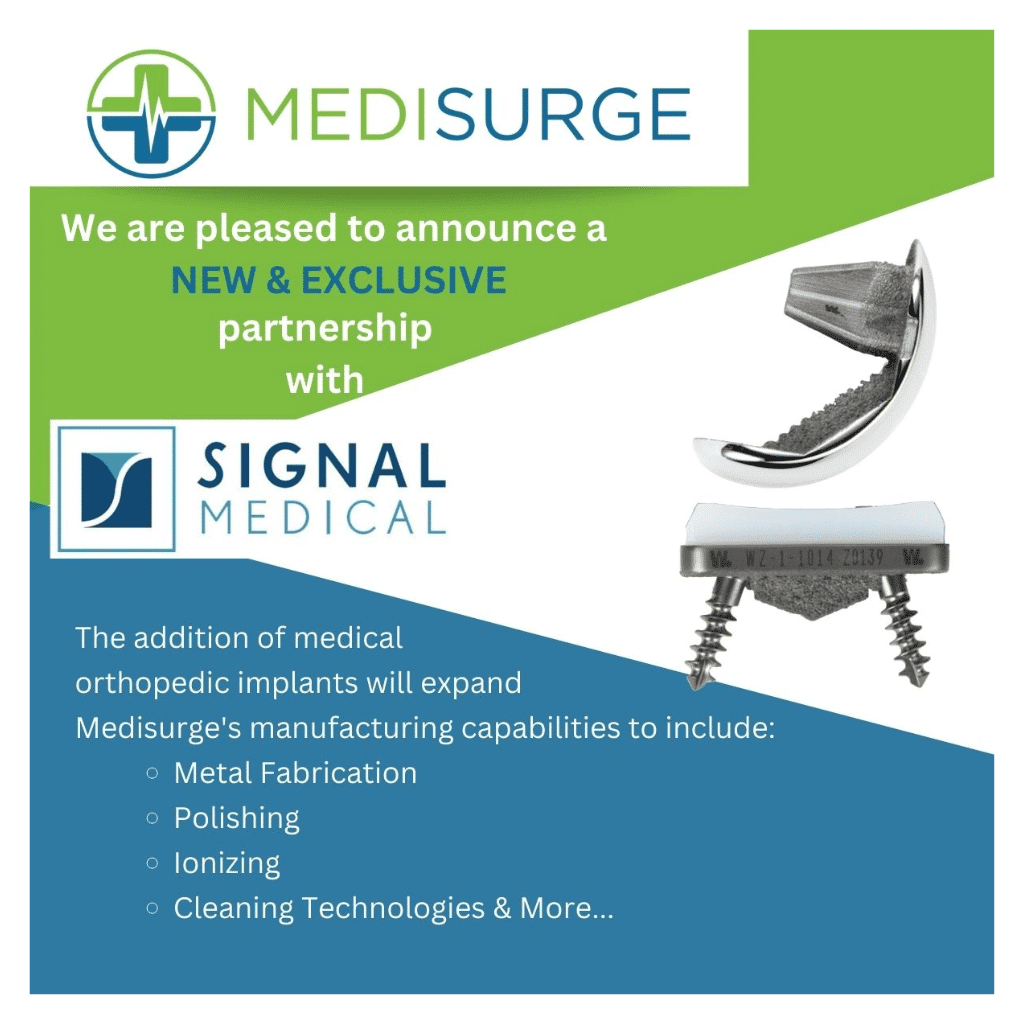 Medisurge and Signal Medical Announce Strategic Partnership
GRAND RAPIDS, MI, January 25, 2023 – Medisurge of Grand Rapids, MI, is pleased to announce its exclusive contract medical manufacturing partnership with Signal Medical Corporation. Based out of Marysville, MI, Signal Medical has manufactured knee and hip implants and provided instrument systems to orthopedic surgeons since 2007.
Signal Medical is "delighted" with the additional opportunities… 
This exclusive medical device manufacturing partnership with Medisurge will provide Signal with the growth expansion needed to establish an even stronger presence in the orthopedic manufacturing market. "We are delighted to enter this partnership with Medisurge. This alliance will bring state-of-the-art, US-based manufacturing, and distribution expertise to Signal Medical providing us with supply chain stability and expanded opportunities in both the public and private sectors," says Chris Harber, CEO of Signal Medical.
Medical device manufacturing capabilities are set to expand
The addition of metal orthopedic implants will expand Medisurge's medical manufacturing capabilities to include metal fabrication, polishing, ionizing, and cleaning technologies. Bob Taylor, Alliant Enterprises and Medisurge Founder and CEO, states "We're very excited to bring precision machining, robotics, and other advanced manufacturing capabilities to bear as part of our expansion into the biotech space. Signal Medical represents a great new customer for us in this segment."
Alliant Biotech, Medisurge & Alliant Healthcare are three different business units.
Medisurge is part of Alliant Enterprises, an SDVOSB with three different business units: Alliant Healthcare Products, a direct-to-government distribution model; Medisurge, a state-of-the-art medical device contract manufacturer; and Alliant Biotech, the incubator, and distributor of unique biotechnological products. Each business unit is directly connected to the others and provides concept-to-completion solutions with direct sales distribution into VAs and DODs worldwide.